This was a hard list to come up with because, outside of school, nobody really forces me to read anything. Even in school if I didn't want to read it I wouldn't do it. That's what SparksNotes were for. But once I started thinking about it I did come up with a nice list of books I would never have picked up if it wasn't for teachers or friends telling me that I had too.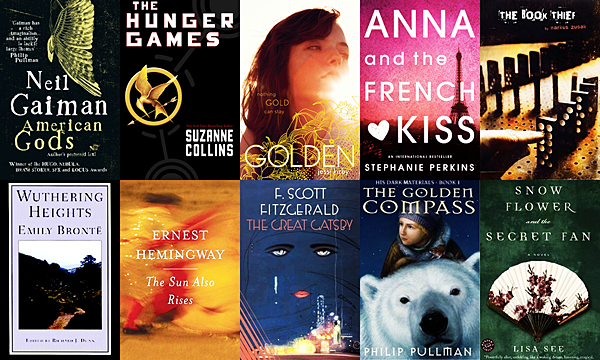 American Gods by Neil Gaiman This was my first Neil Gaiman book, so it holds a special place in my heart. I had seen his books before, but had never really been interested because I primarily read chick-lit, YA and romance novels at the time, but my roommate shoved it into my hands and told me I had to read it and I did and utterly fell in love with it, and an entire genre I'd pretty much ignored beforehand.
The Hunger Games by Suzanne Collins Okay, so between 2004 and 2009 I really wasn't reading much YA. It was pretty much Twilight and Harry Potter and that was it. Everything else I read was romance novels. But then I became involved in the Twilight fandom on Livejournal and met Steph from Poetry to Prose, who opened me up to a whole host of other great YA books, so you'll notice her name on this list a lot as the friend who "forced" me to read something outside of my comfort zone. The Hunger Games was distinctive because it was my first dystopian YA and, at Steph's insistence, I picked it up at the mall before work one day, read the entire thing in one sitting while at work and rushed to the mall before class the next day to pick up Catching Fire because it was just. that. good.
Golden by Jessi Kirby I would probably never have picked this up if Molli and Katie hadn't made me, because it's just not really my thing, but I am so glad they made me because I absolutely ADORED this book and it really sang to my soul in terms of where I was in life when I read it.
Anna and the French Kiss by Stephanie Perkins This was another one Steph, and many other Twitter friends, forced on me. I wasn't really reading much contemporary when it came out and this was the book that really made me fall in love with the contemporary YA genre.
The Book Thief by Markus Zusak I would never have read this book if Steph hadn't made me. I don't read a lot of sad books if I can help it, especially if they are set in WW2 but this book you guys. HOW DO YOU NOT LOVE THIS BOOK? It's beautiful and heartbreaking and FEELS.
Wuthering Heights by Emily Brontë This was one of the books forced upon me by my Victorian Lit professor during my undergrad that I just fell utterly in love with. Heathcliff is a bastard, and the book is so heartbreaking, but it's also just a majestic work of art.
The Sun Also Rises by Ernest Hemingway I love Ernest Hemingway. Another book I was forced to read for one of my Lit classes in my undergrad (I was an Engish minor) The Sun Also Rises was the book that convinced me to read all his other works. It also contains what may possibly be my favorite quote of all time:
"Oh, Jake," Brett said, "we could have had such a damned good time together."

"Yes," I said. "Isn't it pretty to think so?"
Someday I will get the "Isn't it pretty to think so" part of that tattooed somewhere on my body.
The Great Gatsby by F. Scott Fitzgerald I'm sure this will pop up on a lot of lists, because I'm pretty sure every high schooler in the world is forced to read it, but it is just that good and definitely deserves all the love it gets.
The Golden Compass by Philip Pullman Oh. This book. I adore this book. I was forced to read it for my "smart kids" after school program in sixth grade (it has a real name, I just can't remember what it is after all these years. I'm an old lady), and I just fell in love with it and to this day it is probably my second favorite series, right after Harry Potter.
Snow Flower and the Secret Fan by Lisa See I would never have read this book if my Aunt Hollie hadn't made me. Nothing about this book on it's own would have appealed to me, especially at the time I first read it because I was mostly reading paranormal romance and I didn't really like historical fiction at all at the time, but I fell utterly in love with this story.
Top Ten Tuesday is hosted by The Broke and the Bookish and features a new top ten list each week.