For those of you who follow me on Twitter, you'll know that I went to the awesome Wordstock Festival this past weekend. AS glorious, exhausting, author filled weekend that featured me running around like a mad person trying to meet some of my favorite YA authors, meet up with some of my local bloggers and get all the books signed and go to all the panels and just have lots of fun. And it was glorious.
Day 1
I met up with Michelle from Unraveling Books to go to the Crossing the Genre Line panel with Jessica Brody, Jennifer Bosworth, JR Johansson and Francesca Lia Block. It was really interesting to hear their take on blending genres in YA and Jessica Brody is always a delight.
After the panel I wandered around hoping to run into Stephanie Perkins, Gayle Forman and Corey Haydu since I knew I'd be missing their panel since it was during my volunteer window and I was lucky enough to run into all of them at once and get my books signed. They were all so sweet and funny and gorgeous. Also Stephanie is so tall and has such gorgeous hair I'm jealous. She was also wearing the most gorgeous dress. I just love her okay. I'm really sad I didn't manage to get pictures with Corey or Gayle during all the chaos, but I did get one with Stephanie, and I took pictures of all my pretty signed books. I got super lucky and got the last copy of Just One Year that was being sold. Also, aren't those postcards that match up with Just One Day and Just One Year super awesome? Love the swag.
After I parted ways with that group of lovely ladies I was chatting with Michelle and her sister when I spotted some familiar bright pink hair and realized that my fellow Portlander, Laini Taylor, was also visiting Wordstock. I was hoping I would run into her on one of the days so I conveniently had her books with me and she was sweet enough to sign them for me and take a picture. I also got a Clementine original in the back of my copy of Daughter of Smoke and Bone!
The rest of the afternoon was spent at my volunteer shift. I got out just in time to see the end of Maggie Stiefvaters panel and get in line to meet her and get my books signed. I got to chat with Vy from Vy's Blog while in line and that was super fun. I love all of Maggie's books that I've read, but The Scorpio Races is easily my favorite so she drew a little picture in my copy. So precious. (Also ignore how horrible I look at the end of the day)
Day 2d
The second day of Wordstock was just for wandering around and having funsies. I went to the 11 a.m panel with Kendare Blake and S.A. Bodeen which was pretty much focused on the creepy and end-of-the-world scenarios. I got to quietly fangirl during the panel since I was sitting next to Marissa Meyer the entire time. I was really excited to meet Kendare Blake, who is lovely and also kind of scary. I super envy the fact that scary movies don't scare her anymore. She got a chance to put me on the spot during the signing, when she asked me to name a movie so she could quote it in Antigoddess and I literally just blanked and could not think of a single movie except The Boondock Saints, and neither of us could remember any quote except the unspellable/unpronounceable one. I'm actually ashamed of myself for not instantly thinking of The Avengers. Fail Marvel fangirl. Anyways. Kendare is awesome and hilarious and I kinda want her to be my best friend.
After that signing I went to the Beyond Twilight: The Future of YA Paranormal Lit featuring April Genevieve Tucholke, Cat Winters, and Teri Brown. It was fun and hilarious and interesting to see their take on the paranormal YA lit without vampires. Mostly it involves lots of ghosts. This was my second time meeting April and Cat and they are absolutely delightful (and fellow Oregonians). This time I remembered to get a picture with them, during which April tried to make mysterious spooky writer face. It was quite awesome. April is just an awesome person in general.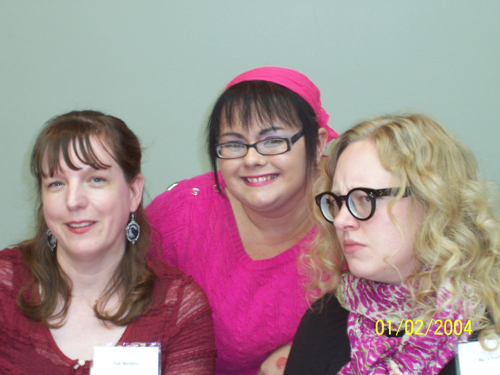 After their signing I waited around to get a book signed by Cat Patrick for Michelle and then I actually left for a bit to run some errands and then came back in time for the panel with Marissa Meyer and Malinda Lo. It was a hilarious panel. Marissa did a successful job of traumatizing me for life by telling the audience a version of Little Red Riding Hood which featured Red eating her grandmothers teeth/entrails, and the Big Bad Wolf having her do a strip tease. Fairy tales are so creepy sometimes and I love it. Marissa is such a sweetheart though and I can't wait to read her books. I don't know what's taken me so long.
So, before Wordstock I had ya'll vote on which author's book you'd like me to get signed and giveaway, and the winner was Between the Devil and the Deep Blue Sea by April Genevieve Tucholke
Giveaway Rules:
~Must be 13 or older.
~Don't cheat!
~This giveaway is US only. International shipping is just too expensive sadly.
~Winners will have 48 hours to respond by email.
Also, don't forget to check out my 100th Post Celebration & Giveaway